The publishing arm of the company and whilst initially established to publish the specific works of the company's Managing Director, Peter Consterdine, selectively it will in future look to broaden its author base, as illustrated by our latest publication, 'Why Security Fails', by Dr Peter Speight.
To Purchase a Book, email sales@protection-publications.co.uk
The cost shown is for U.K post and packaging. Please enquire about overseas costs.
NEW RELEASE – 'Why Security Fails,' by Dr Peter Speight
Dr Peter Speight is a 30 year veteran of the security business, having, on the way, accumulated two MScs and a Doctorate in Business Administration, but whose first concern is that security, at its simplest, or most complex, works. Security should not only work, but have a purpose of being part of the process of risk management, and Peter has made it his goal to drive this message to not only the client companies he consults for, but to the security industry at large.
Peter is a regular lecturer on the security industry circuit and, currently, Director of Security Risk Management at Securitas Security Services (UK) Ltd
About the Book
This book is about security when considered for implementation in the absence of risk, or operational requirements, failing to achieve its goals. The foundation of the book is a five year academic research programme, and aimed not just at an academic audience, but also for the wider security community.
Well illustrated with photographs and diagrams, the book centers around an actual case study of a security operation in need of major surgery that Peter was involved with and which eventually became an award winning project.
This book is both an academic treatise on the state of security at the start of the 21st Century, and a blueprint for all security professionals looking to increase their knowledge.
Cost £39.95 (Incl. U.K. P & P)
——————————————————–
The Modern Bodyguard, by Peter Consterdine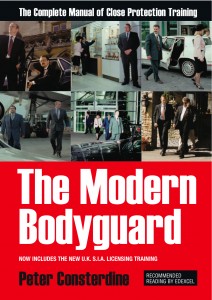 The most comprehensive manual on the subject of Executive Protection. Over the past few years, its author, Peter Consterdine has run EP operations in such diverse geographies as Moscow, Beirut, Madrid, Kazakhstan, London, St. Petersburg, Algeria and the Far East. As the definitive training manual, The Modern Bodyguard covers all you need to know about the work of bodyguarding. Revised and enlarged in 1997, it is some 332 pages, with over 100 photographs and over 70 illustrations covering the most up-to-date techniques.
Peter adopts a 'real world' approach to how the many drills and procedures should be applied in practice not just in theory. Peter says: In civilian EP work, our employers are discretionary purchasers and their consent to all we do is absolute. At times in this book, I've probably been provocative in my approach to certain subjects, but often I'm appalled at the text book approach to the reality of situations.
Even in a book of this size, it has not been possible to go into great depth on many of the subjects, but that is how it should be. There is a point reached where you simply can't learn it from a book. Theory, concepts and procedural do's and don'ts are fine, but training is doing and you've got to practice drills and procedures.
You've got to drive, shoot and carry out foot formations and understand the problems when on the ground, of operating as part of a CP team in whatever role you may occupy. What I've attempted to do, in those areas where it isn't possible to look at all the subjects in detail, is to put in the subject headings and leave it to the reader to further his or her own studies around those subjects that interest them the most.
Protecting the lives of people of note can never be an exact science. There are too many incalculable factors, too many unknown dangers for protection to be guaranteed. So this book is intended as advice, not as a set of obligatory instructions or directions, because it is realised that the best that can be striven for is a routine and systems that are designed to combat the most obvious risks and endeavour to be ready for the less obvious ones. The only permitted variables in the degrees of protection, as you will read, are in proportion to the threat, but the operative's effort must at all times be absolute or any measures will be in vain. In other words, the cover provided for a VIP may sometimes only be minimal, but our efforts to provide that cover are always 100%.
The real world of Executive Protection is not that we read about where the so called operatives carry every conceivable weapon on their person, even down to a pair of handcuffs, nor is it about shooting, stabbings and leaving bodies strewn over the landscape, as some of our more extreme colleagues in the industry would have you believe. It is about detailed planning, correct determination and use of resources, protocol and being able to be indistinguishable from any other Board member you are tasked to look after.Don't be sucked into believing the gung ho brigade it doesn't happen like that, which is why I wrote this book to set the record straight as to just what a professional Close Protection operative should know.
Personal Security

The CP Team

Terrorist Tactics

Location Security

Vehicle Escort Procedures

Threat and Threat Assessment

Bomb Awareness & Recognition

Emergency First Aid

Surveillance

Travel Security

Vehicle Security & Searching

Embus/Debus Procedures

Route Selection & ReconnaissanceAnti-Ambush Drills

Walking Drills

Weapon Selection & Handling

Unarmed Combat & Fitness Training

Running the Control Room
Cost £28.99 (Incl. UK P & P)
——————————————-
Travelsafe, by Peter Consterdine

The Complete Guide To Travel Security
A Travel Security Guide for the Tourist & Business Traveller
Travelsafe is the complete work of Travel Security. With over 300 pages and a full colour photo section, this book is a must for both the tourist and business traveller. No longer can businesses and individuals ignore the reality of travelling in an increasingly dangerous world.
Written by Peter Consterdine, the Managing Director of a specialist Future Risk Management Ltd, Peter has spent many years operating insome 30 countries for some of the biggest multi-national corporations. This has involved having to conduct detailed security audits, crisis planning, executive protection operations and the delivery of travel security briefings to both staff and senior company personnel.
Risk Analysis

Surviving Hotel Fires

Personal Security

Security on the Road

Security for the Expatriate

Hostage Survival

Hot Spots of the World

Preparations

Hotel Security

Travel & Health

Security on the Street

Security at Airports

Anti-Kidnap Procedures

Crisis Planning & Evacuation
Available as a Download only. Cost £15.97
————————————————————-
Streetwise, by Peter Consterdine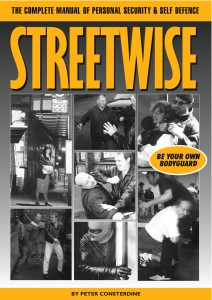 This manual is not another 'martial arts in jeans' type self defence book. It combines the detailed concepts and procedures from the world of Executive Protection, with the very best of the physical aspects of self defence. Streetwise by Peter Consterdine is the most comprehensive manual covering all aspects of Personal Security and Self Defence. Streetwise combines the detailed concepts and procedures from the world of Executive Protection, with the very best of physical self defence.
Streetwise is a book for instructors, students, police officers and anyone interested in the vast subject matter. The book has been broken down into two parts. Part one deals with the very detailed subject of personal security and studies the complex psychology and procedures for awareness training. Importantly, this section looks at the perceptions of crime and all practical procedures to be adopted, in the street, in the home, the vehicle and at work.
Part two deals with the physical aspects of confrontation. From 'conflict resolution' through to striking and kicking combinations, this section leaves no stone unturned in the search for the correct approach to street survival and exposing the myth of thinking that traditional systems can be made to work as an answer to real violence.
As a consultant police instructor, Peter is well aware of the difficulties police officers face when tackling violence in today's society. As well as teaching at National Police college, Peter also teaches his unique 'Powerstrike' courses to many other police forces.
Principles of Personal Security

Threat Pyramid

Security on the Street

Fear and Adrenal Responses

Personal Threat Analysis

Home, Mobile and Office Security

Self Defence and The Law

Ranges and Tools

Weapons of the Body

Multiple Attackers

Awareness Training Systems

Colour Codes

Psychology of Conflict

Perceptions and Fear of Crime

Personal Security Procedures

Conflict Resolution

Myths of Martial Arts

Impact Development

Knife Defence – Realities
Cost £28.99 (Incl. UK P & P)
———————————–